Freeman's May 3 Books and Manuscripts auction was marked by fierce bidding competition over presidential material and significant Americana, resulting in the remarkable $441,000 sale of a volume from the personal library of George Washington.
"The market for presidential books, documents, and autographs is quite strong, and this exceptional result really drives that home," says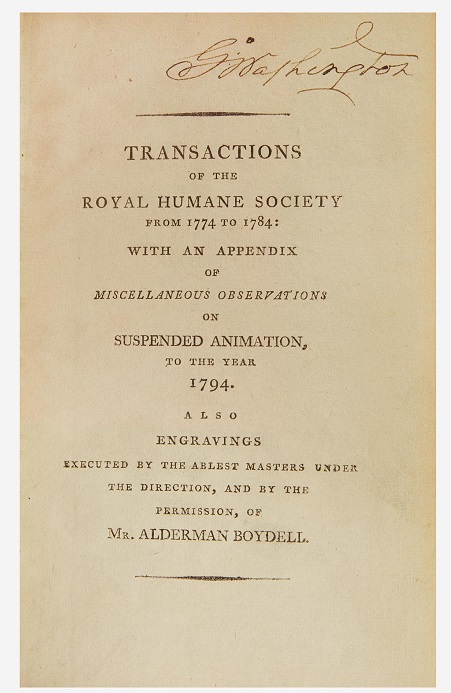 Darren Winston, Head of Freeman's Books and Manuscripts department. "As rare as material like this is, it's still Freeman's bread and butter, right in our wheelhouse, and we're thrilled with the result—as is the consignor."

The first edition of The Transactions of the Royal Humane Society was given to Washington during his second presidential term by physician Dr. John Coakley Lettsom, and features Washington's bold signature at the top of the half-title page.

As books from Washington's library seldom come to auction, this volume represented a very rare market appearance, with corresponding results: the title exceeded its pre-sale high estimate of $18,000 by more than 24 times following a spirited bidding war. Several other lots outperformed their estimates in Wednesday's auction, including a fresh-to-market manuscript receipt for the delivery of John Dunlap's just-printed Declaration of Independence, dated July 10, 1776, signed and inscribed by Owen Biddle (achieved $32,760; estimate: $3,000-5,000); an autograph letter signed by Thomas Jefferson (sold for $27,720; estimate: $15,000-25,000); and a 1787 land grant signed by Benjamin Franklin (achieved $17,640; estimate: $10,000-15,000).

A 1593 first edition of George Gifford's A Dialogue Concerning Witches and Witchcraftes also outperformed estimates, achieving $17,640 (estimate: $3,000-5,000). Sixty-seven of the sale's lots were from the Children's and Illustrated Books Library of Nicholas Wedge, and together brought $105,556 against a pre-sale low estimate of $54,500.
Freeman's next Books and Manuscripts auction, A Fine Collection of American Literature and History, will be held June 8. Freeman's invites consignments of books and manuscripts year-round. For more information about consigning with Freeman's, please contact Darren Winston (dwinston@freemansauction.com or 267.414.1247).