Potter & Potter Auctions' first book sale of 2023 (Thursday, February 16th) realized over $630,000 with a sell through rate of 95%. Prices noted below include the company's buyer's premium.

Books by, or with ties to Samuel L. Clemens ("Mark Twain", 1835–1910) performed well. A first edition, presentation copy of W.W. Jacobs' (British, 1863-1943) Salthaven inscribed to and by Twain, was the top lot in the sale. It was estimated at $25,000-35,000 and fetched $31,250. It was published by Methuen & Co. in London in 1908. In addition, Twain inscribed on the half title "It's a delightful book. Mark." Below, Twain further reaffirms this statement, apparently in passing the book to someone else: "Bog House, Bermuda, March/10. I have read it about 5 times. The above verdict stands."

A 37 volume collection of The Works of Mark Twain published in New York by Gabriel Wells between 192 and 1925, was estimated at $6,000-8,000 and made $11,875. The limited edition set, number 79 of 1024 copies of the "Definitive Edition", was signed by Twain on the front flyleaf of volume I. All volumes retained their original dust jackets. A 25 volume collection of Mark Twain's Works published in Hartford by the American Publishing Company between 1899–1907, was estimated at $8,000-12,000 and achieved $16,250. This set, number 233 of 512 copies of the "Autograph Edition" for subscribers - was published on india paper designed by Tiffany & Co. and etched by W.H.W. Bicknell. It also featured numerous engravings, 18 of which were signed by their respective artist. This collection is considered the rarest and most desirable of all the Twain sets according to experts. A first edition of Mark Twain and Charles Dudley Warner's The Gilded Age: A Tale of Today, was estimated at $6,000-8,000 and fetched $16,250. It was printed in Hartford and Chicago by the American Publishing Company; F.G. Gilman & Co., in 1873. Also, two manuscript pages by Twain and Dudley were inserted in the copy. The first was in Twain's hand and numbered 166 at the top; the other leaf was in Dudley's hand and numbered 1446 at the top.

This sale featured remarkable first editions of some of the noteworthy books of the past two centuries. J.R.R. Tolkien's The Lord Of The Rings trilogy,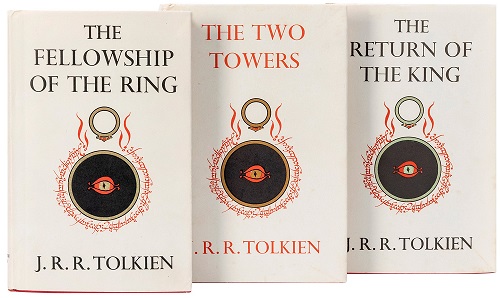 estimated at $10,000-15,000, sold for $19,200. This trilogy included The Fellowship Of The Ring (1954), The Two Towers (1954) and The Return Of The King (1955). All were published in London by Allen & Unwin Ltd. and the provenance included the bookseller, R.S. Heath Ltd.

Richard Nixon's (1913–1994) Real Peace: Strategy for the West, was estimated at $250-350 and realized $2,375. Privately printed in New York in 1983 this advance copy and galley proof was a first edition and one of 1000 copies of the private edition printed before publication. It included a TLS from Nixon to Martin Hayden which stated, "In view of the current national debate on foreign policy issues, I thought you might like to have a copy of the page proofs of a book on Soviet–American relations which I have just completed… I am publishing and distributing the book privately…to a selected number of government officials and opinion leaders in the United States and abroad who have expressed a serious interest in East/West issues".

Theodore Roosevelt's (1858–1919) The Naval War of 1812; or, The History of the United States Navy During the Last War with Great Britain, was estimated at $1,500-2,500 and sold for $11,250. Published in New York by G.P. Putnam's Sons in 1882, this first edition of the author's debut book was published when Roosevelt was just 23 years old and would go on to become a classic of naval history. Henry David Thoreau's Walden; or, Life in the Woods, was estimated at $8,000-12,000 and realized $13,750. Published in Boston by Ticknor and Fields in 1854, this first edition was one of only 2,000 copies printed and had provenance to Alexander W. Longfellow Sr. (1814–1901), the brother of poet Henry Wadsworth Longfellow.

Collections of books by the Easton Press, a publisher specializing in premium leather-bound books, were also popular with bidders. Lot #157, a library of 201 volumes published by the Easton Press, including literature and the classics, was estimated at $600-800 and brought $8,750. Also, a group of 74 volumes published by the Easton Press related to history, science, exploration and war, was estimated at $400-600 and made $3,120. Lot #158, a set of 105 volumes published by the Easton Press related to Americana and politics, was estimated $400-600 and sold for $4,000.

The sale concluded with antiquarian books, illustrations, and category bridging publications. William Shakespeare's The Third Part Of Henry The Sixth, With The Death Of The Duke Of Yorke, was estimated at $5,000-7,000 and fetched an impressive $25,000. Published in London by Isaac Jaggard and Ed. Blount in 1623, the folio consisted of 26 pages on 13 leaves and was paginated 147 through 172 and featured a woodcut head and tail piece. It had been extracted from the first folio printing of the complete third part of this play set during the lifetime of King Henry VI of England.

A full length, lithographic portrait of Albert Einstein (1879–1955) playing the violin, by Emil Orlik (1870–1932), brought $11,400. It was drawn in 1928 and signed and dated on the lower left by Einstein and signed and marked as a proof by the artist. Potter's experts could only locate one other signed proof of this image, which is housed at the American Institute of Physics.
A group of 6 titles with original drawings by Mahlon Blaine and inscribed to magician Joseph Dunninger, was estimated at $400-600 and fetched $4,080. These included first editions, inscribed editions, and some with original illustrations. The lot also included a pair of works from the library of Joseph Dunninger with his bookplate and several original photographs of explorer Trader Horn with a young Dunninger.

The Journal of the Lewis & Clark Expedition, was estimated at $600-800 and sold for $8,125. This edition included 13 volumes, edited by Gary E. Moulton and published in Lincoln, NE by the University of Nebraska between 1986–2000. This fine set, a first "new and complete" edition, included the rare atlas volume with numerous manuscript maps in facsimile.

For more information about this sale please contact Christopher Brink at (773) 472-1442.