Information • Entertainment • Opinion (Since 1985)

| | | | | | | |
| --- | --- | --- | --- | --- | --- | --- |
| Book Fairs | Book Auctions | Open Bookshops | Biblio Paradiso (The Virtual Book Fair) | Book Search | Rare & Unusual Books | Alternative News |
Doings at the Morgan (Satire in the Age of Reason)
An exhibit entitled Claude Gillot: Satire in the Age of Reason will open at the Morgan Library & Museum on February 24, 2023 and will run through May 28, 2023. Around 1700, as an increasingly pious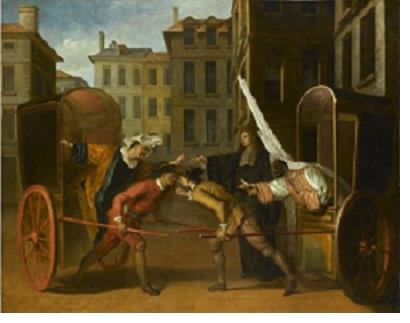 Louis XIV withdrew to Versailles, Paris flourished. The dynamic artistic scene included specialists such as Claude Gillot (1673–1722) who forged a career largely outside of the Royal Academy, designing everything from opera costumes to tapestries.
Known primarily as a draftsman, Gillot specialized in scenes of satire. He found his subjects among the irreverent commedia dell'arte performances at fairground theaters, in the writings of satirists who waged the Quarrel of the Ancients and Moderns, and in the antics of vice-ridden satyrs whose bacchanals exposed human folly. Gillot's amusing critiques and rational perspective heralded the advent of the Age of Reason while his innovative approach attracted the most talented artists of the next generation, Antoine Watteau and Nicolas Lancret, to his studio.

With over seventy drawings, prints, and paintings, including an exceptional contingent from the Louvre, Claude Gillot: Satire in the Age of Reason explores the artist's inventive and highly original draftsmanship and places his work in the context of the artistic and intellectual activity in Paris at the dawn of a new century. The catalogue accompanying the exhibition will provide the first comprehensive account of Gillot's career. For more information, call (917) 805-4128.