Information • Entertainment • Opinion (Since 1985)

| | | | | | | |
| --- | --- | --- | --- | --- | --- | --- |
| Book Fairs | Book Auctions | Open Bookshops | Biblio Paradiso (The Virtual Book Fair) | Book Search | Rare & Unusual Books | Alternative News |
Washington Letter to Jefferson Exceeds Estimate
Freeman's November 15 Books and Manuscripts: Rare Americana auction featured the $2,389,500 sale (est. $1 - 1.5 million) of the letter George Washington sent to Thomas Jefferson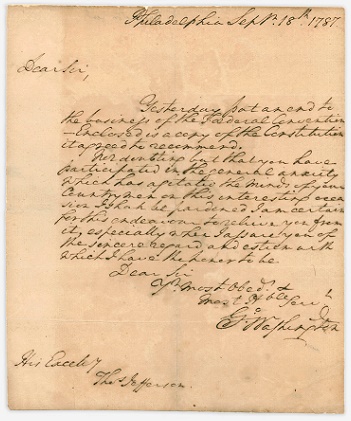 announcing the Constitution's completion, one day following its adoption by the Constitutional Convention.

"We're thrilled by the sale of Washington's letter to Jefferson, and so is the consignor," says Darren Winston, Head of Freeman's Books and Manuscripts department. "It's always really exciting to bring rare documents like this to market, but especially—as in this case—when the letter is so deeply connected to the founding of the nation."

At the time of the Constitution's signing, Jefferson, who authored the Declaration of Independence, was representing America in France. The Constitutional Convention was sworn to secrecy in the summer of 1787, but Washington was eager to pass the news along to Jefferson as soon as the landmark document was signed.

In this way, the letter not only reflects the high regard in which Washington held Jefferson, it also provides a critical link between two of the nation's founders and offers a window into a world where breaking news could take weeks or months to arrive.

The remarkable sale, held in the midst of American election season, confirms Freeman's pride of place in bringing foundational early American letters and documents to market. The $2.4M sale of this rare letter on Tuesday is one of a series of Freeman's recent successes presenting such material at auction, including the $1.8M sale of a 1776 letter announcing America's independence, to the state of Georgia, signed by John Hancock and the $4.42M sale of a rare copy of the Declaration of Independence, in 2021.

Freeman's Books and Manuscripts department is always welcoming consignments of early Americana—as well as books, letters, documents, posters, prints, and more.

For more information about this sale, or to inquire about consignment, please contact Darren Winston (dwinston@freemansauction.com or 267.414.1247).