Potter & Potter Auctions has announced a nearly 600 lot sale to be held on Thursday, October 20th starting at 10am. The event will be held online and live streamed, with a limited number of bidders physically allowed in the gallery as determined by current Illinois public health attendance guidelines. Please call the auction house, located at 5001 W Belmont Avenue in Chicago, at (773) 472-1442 to reserve seats. Bidding will also take place through Potter & Potter's website, which can be found at www.potterauctions.com. Phone and absentee bids are also welcome. All items are available for in-person preview, by appointment only.

Among the early 20th century signed first editions or presentation copies is a signed copy of James Joyce's Ulysses, estimated at $50,000-60,000. Published in London in 1937 by John Lane the Bodley Head, this example is the first English edition printed in England, a limited issue, and one of 100 copies on mould–made paper signed by Joyce (from a total edition of 1000 copies; this copy is unnumbered). It was reserved for presentation by the author, with the words "Presentation Copy" inscribed below the limitation.

An early edition of Jack London's is estimated at $10,000-15,000. Published in New York by The Macmillan Co. in 1905, this example is illustrated by Philip P. Goodwin and Charles Livingston Bull, with decorations by Charles Edward Hooper. It is inscribed by London presumably to the political activist Emma Goldman (1869–1940): "Dear Emma– never mind the new San Francisco; here's to the new library. Affectionately yours, Jack London. Glen Ellen, Calif. June 15, 1906." The inscription refers to the aftermath of the 1906 San Francisco earthquake that destroyed most of the city, including the Cecil H. Green Library at Stanford University. London had a strong connection with the University, giving lectures on literature and socialism there. This lot also includes a rare original photograph of Buck, the canine protagonist of The Call of the Wild, signed by London.

A signed first edition, limited issue of Aleister Crowley's The Winged Beetle, is estimated at $10,000-15,000. Privately printed in London in 1910, this copy is number 1 of 50 from a total edition of 350 and was Crowley's personal copy. It is heavily annotated in his hand including 39 poems with notes identifying where and when each was written and to whom it related. According to literature scholar Martin Starr, "The first edition is scarcer than its limitation implies; a circumstance explained by its non–durable binding and the loss to flood damage of nearly a third of the print run."

Other remarkable books with direct ties to notable events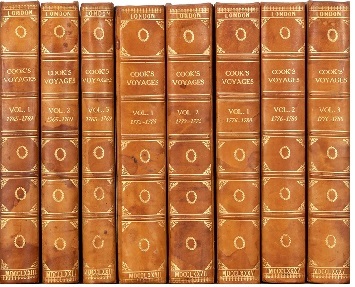 and people include a copy of Robert Browning's Poetical Works given to Ernest Shackleton (1874–1922), estimated at $40,000-60,000. This two volume in one edition was printed in 1906 in London by Smith and Elder. This rarity was presented to Shackleton and the officers of the Nimrod by a member of the Royal Geographical Society, and is inscribed on the front flyleaf: "To Lieut. E.H. Shackleton, & the Officers of the 'Nimrod', with very best wishes for a happy & successful voyage, from Agnes S. Fox, September 1907." Shackleton took this book on his expedition and he had it "in the hut under the Polar night." The copy also features additional motivational quotes written on its endpapers to help guide Shackleton on his voyages to the Antarctic.

Captain James Cook's (1728–1779) Collective Voyages, is estimated at $14,000-18,000. The collection consists of 3 volumes from 1765-1769; two volumes from 1772-1775; three volumes from 1776-1780; and a larger volume of plates. The First and Second Voyages were printed in London by W. Strahan and T. Cadell in 1773 and 1777. The Third Voyage was printed in London by H. Hughes for G. Nicol and T. Cadell in 1785. All are bound in contemporary calf; the Voyages are detailed with gilt rolled borders, central winged devices on each cover, and gilt dentelles.

Alfred Lord Tennyson's The Charge of the Light Brigade, is estimated at $15,000-25,000. This copy - bound in full crimson morocco - was printed in London on August 8, 1855 specifically at the request of Tennyson for soldiers serving at the siege of Sevastopol. It is a first separate edition, limited issue, and one of 1,000 copies published. This association copy is signed by Captain John Walrond Clarke of the 10th Royal Hussars. Clarke's regiment was involved in numerous campaigns throughout the Siege of Sevastopol during the Crimean War.

Also on offer are important selections of ancient literature. Aristotle's (384–322 B.C.E.) Aristotelis Opera, parts one and two, is estimated at $20,000-30,000. These two Greek language volumes were edited by Aldus and others and printed in Venice by Aldus Manutius, in November, 1495 through February, 1498. Part one is Organon, or Logic; part two is Natural Philosophy. Each volume is bound in antiqued modern calf with contemporary red edges and has its pages decorated with woodcut floral and interlace headpieces, Greek initials, and woodcut diagrams.
John Dryden's Fables Ancient and Modern; translated into verse from Homer, Ovid, Boccace, & Chaucer: with Original Poems, is estimated at $4,000-6,000. This first edition, large paper copy was printed in London by John Tonson in 1700, and is bound in full contemporary red goatskin paneled in gilt. This example has provenance to George John Spencer, 2nd Earl Spencer (1758–1834), a prominent British politician and recognized bibliophile and literary scholar. According to bibliographer and historian Seymour De Ricci, Spencer was, "...one of the greatest book–collectors, not only in English history, but even in the history of the world."
Also on offer is The Poems of William Shakespeare (1564–1616), estimated at $12,000-15,000. This edition was edited by Frederick S. Ellis and published in Hammersmith by William Morris for the Kelmscott Press in 1893. It is a limited edition, one of 500 copies printed on Flower paper, of a total edition of 510. This example is handsomely bound in fine leather and elaborately decorated with pontillé design gilt, tan levant endpapers, additional hand marbled endpapers, with top edge in gilt. It includes its original full green niger folding box decorated with matching Art Nouveau lettering.

This event concludes with other noteworthy publications, including first editions of ground-breaking writers. A first edition, limited issue copy of Oscar Wilde's The Ballad of Reading Gaol, estimated at $6,000-8,000, was printed in London by Leonard Smithers in January, 1898. This example is one of 800 copies on handmade Dutch Van Gelder paper by the Chiswick Press, of a total edition of 830. It is also a presentation copy from Wilde to the well–known English personality and writer Oscar Browning (1837-1923) and includes a "compliments of the author" slip tipped in. This copy was sold at the Hugh M. Howard sale, held at Sotheby's in March of 1936.

According to Christopher Brink, Potter & Potter Auctions' Director of Fine Books and Manuscripts, "This monumental sale spotlights an already banner year for our Department. We have brought to market a wide selection of important association copies, first editions, and items never before offered at auction. This is an event that collectors will not want to miss." For more information call (773) 472-1442.