On August 11, 2022, PBA Galleries will be hosting a sale with over 450 lots of historically significant material on the history of the Americas and other parts of the world. Early exploration and colonization along with the political conflicts,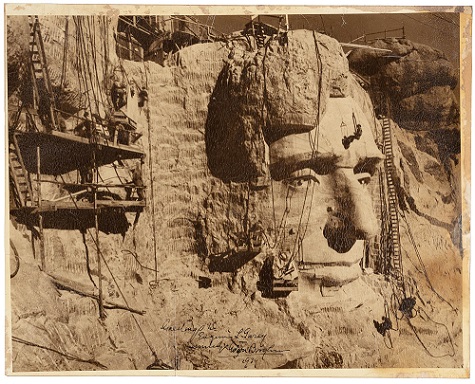 economic developments, and societal clashes that accompany them are revealed in the content of the sale. These include written accounts, drawn and photographed prints, scarce ephemera, and maps that chronicle the gradual revelation of unknown lands.

The manuscript edition deluxe of The Writings of John Muir, is a highlight from the Americana section of the sale. Consisting of 10 volumes in original half morocco & cloth, it is one of 750 sets, and contains a manuscript leaf from The Mountains of California bound into Volume I. (estimate: $5,000-$8,000).

An original gelatin silver photograph of workers carving the portraits of Theodore Roosevelt and Abraham Lincoln into Mount Rushmore from scaffolding is also on offer. A signed inscription by sculptor Gutzon Borglum, who masterminded the project, is found at the bottom center. (estimate: $1,000-$1,500). Another Americana highlights is an original ink and watercolor-gouache drawing of an African American family in a musical interlude with pets and children. A display of domestic life in the latter 19th century, with illustrations on the back pointing to it being clipped from a scrapbook leaf from the era. (estimate: $1,500-$2,500).

An Universal History, from the Earliest Account of Time, another offering, is a two-part work of 25 volumes, dated 1736-1765, compiled from the works of numerous authors, scholars, explorers, and adventurers. A massive folio set, with numerous plates and maps, it is one of the first attempts to situate the history of Europe with the larger world, and notably includes the beginnings of European colonization. (estimate: $4,000-$6,000).

The rare Memoir on the Geography, and Natural and Civil History of Florida, by William Darby, deputy surveyor for the United States. Published in 1821, just two years after Florida's acquisition by the United States and containing a large and significant folding map with three insets of Mobile Bay, Pensacola Bay, and Espiritu Santo Bay with Tampa Bay. (estimate: $3,000-$5,000).

An exploration highlight is the first edition of Commodore M.C. Perry's Narrative of the Expedition of an American Squadron to the China Seas and Japan. The 3 volumes are illustrated with tinted lithograph plates, engraved maps, woodcut star charts, and notably a scarce nude bathing plate, as well as a signature of Perry. (estimate: $2,500-$3,500).

A notable lot from the map section of the sale is the "Graphic Chart" of San Francisco, by Frederick Marriot, which contains a key to 188 locations and is dedicated to the leading interests of California and the Pacific coast. It was published by the San Francisco Newsletter in 1878 and is lithographed by Britton & Rey. (estimate: $2,000-$3,000).

Other notable offerings include a compilation of writings by Thomas Jefferson containing a facsimile of the draft of the Declaration of Independence, as well as a rare, lithographed Bird's eye view of Asbury Park, N.J. 1881, by T.M. Fowler with 5 inset views of buildings and other features of what is most famous as the birthplace of Bruce Springsteen.

PBA is open by appointment only. Live auction participation is available via online or phone bidding. For more information about upcoming sales, to schedule a Zoom preview or phone bidding for a future auction, please contact the galleries at (415) 989.2665 or pba@pbagalleries.com.