Potter and Potter's Fine Books and Manuscripts Sale achieved some rather spectacular results. After a long day of competitive bidding, 72 lots brought between $2,500-9,999; 14 lots made between $10,000-24,999; and 5 lots broke the $25,000 mark. Prices noted include the company's 20% buyer's premium.

Important antiquarian books in various fields took that performed well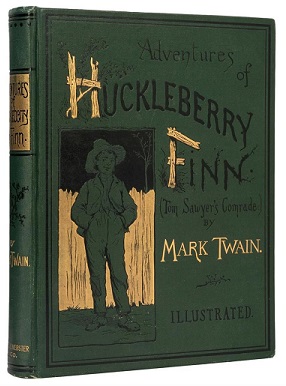 included Ethan Allan's (1738–1789) A Narrative of Colonel Ethan Allen's Captivity from the Time of his Being Taken by the British, near Montreal, on the 25th day of September, in the Year 1775, to the Time of his Exchange, on the 6th day of May 1778: Containing his Voyages and Travels Interspersed with Some Practical Observations. Written by Himself, and now Published for the Information of the Curious in all Nations, was estimated at $40,000-60,000 and traded hands at $78,000. This, the second edition from 1779 has the distinction of being only copy offered at auction since 1909 when it traded hands at Henkel's Clarence H. Clark sale - 113 years ago.

Richard Hakluyt's (c. 1552–1616) The Principal Navigations, Voyages, Traffiques and Discoveries of the English Nation, made by Sea or over-land, to the remote and farthest distant quarters of the Earth, at any time within the compasse of these 1500 yeeres, almost doubled its low estimate to sell for $48,000. This three volume, second (first enlarged) edition was printed in London in 1599 and had been the property of Charles Maynard, 1st Viscount Maynard and others. Alexis de Tocqueville's (1805–1859) De la Democratie en Amerique, traded hands at $33,600.00 (est. $30,000-40,000). The two parts in four volume edition was printed in Paris by Bourgogne and Martinet for Charles Gosselin between 1835-1840.

Thomas Gamaliel Bradford's (1802–1887), An Illustrated Atlas, Geographical, Statistical and Historical of the United States and the Adjacent Countries, was estimated at $8,000-12,000 and made $21,600. This first large edition from 1838 included 39 copper engraved maps including several city plans and a double–page map of the United States by G.W. Boynton.

Tales of a Thousand and One Nights; [or], The Arabian Nights' Entertainments, estimated at $7,000-9,000 fetched $26,400. Translated by Edward William Lane, it is considered to be the standard and comprehensive English translation of this work in its original monthly parts. It was printed in London by Whitehead and Co. for Charles Knight & Co. in 1838–1841. The set included the Part X supplement that is lacking in the only other known set held at the Pierpont Morgan Library in New York City.

Several editions of A. Conan Doyle's (1859–1930) The Hound of the Baskervilles caught the eye of bibliophiles worldwide. All were published in New York by Grosset & Dunlap and retained their original dust jackets. A copy published around 1912 or earlier, was estimated at $400-600 and made $6,600; another copy from around 1902 or 1903, was estimated at $600-800 and sold for $3,840; a copy published in 1915, beat the low estimate by a factor of six, to fetch $3,600.

Among the items related to Martin Luther King Jr., a May, 1965 edition of Ebony magazine signed by King was estimated at $3,000-4,000 and sold for $13,200. Inscribed "My Friend / Claude Wyatt / With Warm Personal Regards / Martin Luther King Jr." it came from the estate of Addie and Claude Wyatt, Jr. A first edition, inscribed copy of King's Strength to Love, was estimated at $2,000-3,000 and realized $12,000. The book contained collection of sermons delivered by Dr. King in the lead-up to the Birmingham Campaign, composed and edited mainly during the two weeks King spent in an Albany jail for holding a prayer vigil outside of Albany City Hall. A first edition, inscribed copy of King's Where Do We Go From Here: Chaos or Community? estimated at $2,000-3,000, sold for $13,200.
This sale came full circle with maps, ephemera, catalogs, and important first editions. A folio containing materials related to the Treaty of Ghent, estimated at $4,000-6,000, brought $38,400. This first edition of the rare set of maps denoted the boundaries between the United States and Great Britain in the Great Lakes region after the War of 1812 according to the 6th and 7th articles of the Treaty of Ghent.
A first American edition, early state copy of Samuel Langhorne Clemens' ("Mark Twain") The Adventures of Huckleberry Finn, estimated at $10,000-15,000 and fetched $21,600. The near pristine example was printed in 1885 in New York by the Charles L. Webster and Company; an illustrated Louis Vuitton catalog from 1887, estimated at $400-600, sold for $7,200.

According to Christopher Brink, Potter & Potter Auctions' Director of Fine Books and Manuscripts, "I am still recovering from the excitement of this event and letting it all sink in! This sale was very finely curated. I believe that encouraged competitive bidding as many of these items were currently off the market. The 96% sell–through rate was another statistic that we were pleased with and one that we continue to hit..."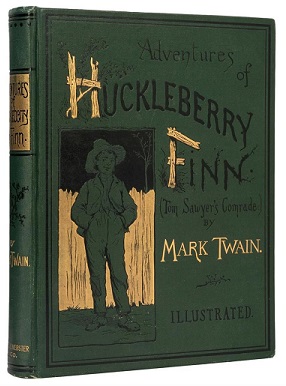 The nearly sale totalled $1.1m.