An extraordinary surreal Gertrude Abercrombie painting set a new world auction record for the artist at Hindman Auctions on February 17 when it sold for $387,500. The 1964 oil on panel measuring 7 ½ by 9 ½ inches and entitled The Dinosaur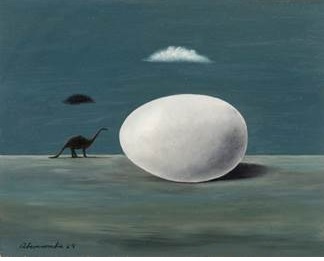 was the highlight of Hindman's Somewhere Out There auction, which featured one-of-a-kind artworks from the more "out there" regions of the imagination. Led by the Abercrombie piece, the auction achieved a total of $970,656, nearly tripling the presale estimate.

"Gertrude Abercrombie was one of the artists that we had in mind for inclusion when we dreamt up this genre-spanning sale of enchantingly strange image-based narrative works," said Zack Wirsum, Hindman's Senior Specialist for Post War and Contemporary Art.
With this auction, Hindman offered a thematically consistent ensemble of a wide range of artists bridging the 1940s to the present, satisfying the current market demand for high caliber work with visionary and fantastical approaches. Including but not limited to Surrealist, Outsider, Psychedelic, Street, Magical Realist, Avante Garde, Pop and Activist artworks, the sale saw inspired bidding at every price point and level of collecting.

A brilliant Surrealist artist, Abercrombie's work has only recently become celebrated on an international level. This work of a large ostrich egg and tiny dinosaur in a barren landscape is an iconic example of her painting, combining her distinctive simplicity with the personal references so characteristic of her art. Abercrombie claims that the ostrich egg came to her in a dream, as many of her subjects often appeared to her. Like the other recurring objects in her work (cats, owls, stoneware vases and compotes, gloves, bunches of grapes), the ostrich egg was a personal emblem that in some ways stood for the artist herself. Despite claiming that she had painted many ostrich eggs throughout her career, only two other works by Abercrombie have been identified that include this egg. The earliest example, a 1963 piece entitled The Ostrich Egg, currently hangs in the Illinois State Museum while the only evidence of the other piece is a photograph circa 1970 of Abercrombie working in her studio. The current location of the painting, however, is unknown. The Dinosaur is a beautiful example of Abercrombie's late career work and shows her outstanding approach to composition.

Hindman also set new auction records with the sale of Wesley Willis's The Lakefront, which sold for $4,375; Larissa Bates's Sleeping Mother, Man with Lazar Beams, after Poussin's Narcissus, which realized $1,375; Kojo Griffin's Untitled (Woman Reaching for Child, Woman in Background), which sold for $11,250; and for a work on paper by Miyoko Ito with Objects in the Nursery , which fetched $2,500.
Standout lots from the auction also included William Anastasi's Untitled (Bababad XI) from 1988, which climbed well pasts its estimate of $30,000-50,000 to sell for $93,750. Joe Coleman's Give Me That Old Time Religion (1995) more than doubled its presale estimate to sell for $87,500.
Solid prices were also achieved for Yannis Gaïtis's, My Side-Your Side, which sold for $37,500 against a presale estimate of $15,000 - $25,000; Christian Boltanski's Portrait of Young Girl Smiling, which sold for $21,250 compared to a presale estimate of $10,000-15,000; and Jiri Anderle's Space and Time, which sold for $12,500 against the presale estimate of $3,000-5,000.
Hindman continued to show its strength in offering works by the Chicago Imagists. Gladys Nilsson's Seams Strait was a crowd pleaser, exceeding its presale estimate to sell for $17,500. The title of this vibrant 1970 watercolor interestingly refers to the 1968 etching by husband and fellow Imagist Jim Nutt, Seams Straight.

For more informtion please call (312) 447-3271.