Swann Galleries' seasonal offering of Vintage Posters is at auction Thursday, August 5. The sale will include the customary slate of advertisements and design with exceptional examples of French artists, World War I and World War II propaganda, the Olympic Games, transportation and more.

Leading the sale is Charles Loupot with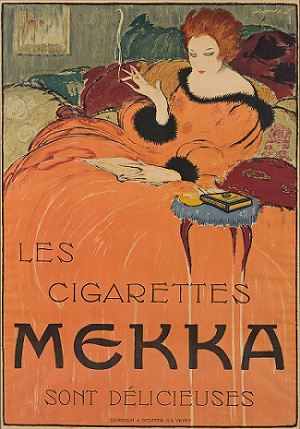 Les Cigarettes Mekka, 1919, a lavish and vivid scene of a woman lounging in orange advertising the French cigarette brand (est. $15,000-20,000); as well as Loupot's Cailler / Chocolat Au Lait, 1921, (est. $8,000-12,000); and PKZ / Burger – Kehl & C., 1921 (est. $6,000-9,000).

Among German artists present are Kurt Schwitters & Theo van Doesburg with Kleine Dada Soirée, 1922, a poster for the first event held at the Haagsche Kunstkring in the Hague in the duo's traveling Dada show (est. $10,000-15,000); a rare poster for the 1924 film Die Stadt Ohne Juden designed by R. Leidreiter (est. $4,000-6,000); and Josef Fenneker's recognizable style can be seen in Luna – Park / Halensee, circa 1920, one of at least four designs he created for the Berlin amusement park (est. $3,000-4,000).

Bicycles and automobile advertisements will include Plinio Codognato's rare Cicli Fiat, circa 1910, an exceptional allegorical image of Mercury attaching his own wings to a bicycle (est. $12,000-18,000); Francisco Tamagno's Terrot & Co. / Cycles Motorettes, 1909 (est. $4,000-6,000); and Weiluc's Bayard / A Clément Constructeur, 1908 (est. $3,000-4,000). Aviation and ocean liners will feature one of the two posters made promoting a documentary about a 57-minute flight taken on April 27, 1913, Panama and the Canal from an Aeroplane, 1914 (est. $4,000-6,000); and Felix Schwormstädt's Hamburg – Amerika Linie / Pleasure Cruises, circa 1904 (est. $2,000-3,000).

James Montgomery Flagg's I Want You for US Army, 1917 (est. $5,000-7,500), an image that has permeated American culture for decades, is among the propaganda and recruitment posters from the World Wars. Also from WWI is a rare Canadian image imploring Jewish men to enlist in the army (est. $5,000-7,500); and L.N. Britton's design used to promote attentiveness and care in America's factories, Warning! / Consider the Possible Consequences If You are Careless in Your Work, circa 1917 (est. $8,000-12,000). Two groupings of WWII posters with works promoting the purchase of war bonds and the urging of enlisting are present including works by Harry Morse Meyers, Ronald McLeod, John Atherton, Ferdinand Warren and more (est. $1,200-1,800, each). Also available are two 1941 satirical works by Boris Efimov pointing out the faults in the Nazi's ideal Aryan (est. $1,500-2,000).

In a timely offering, vintage Olympic game posters include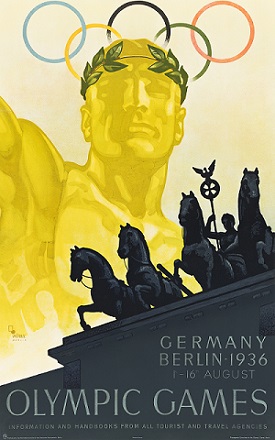 Hernando Gonzallo Villa's 1932 design for the Santa Fe Railroad promoting travel to Los Angeles for the games (est. $4,000-6,000); the official poster for the 1936 summer game in Berlin by Franz Würbel (est. $2,000-3,000); and a group of 13 posters from The Bridge to the Future series aimed at bringing the 2012 games to San Francisco's Bay Area (est. $3,000-4,000).

Classic examples of Leonetto Cappiello's design aesthetic are available with Contratto, 1922 (est. $2,000-3,000), Maurin Quina, 1906 (est. $1,500-2,000), and Vermouth Martini, circa 1905 (est. $1,500-2,000). Further beverage advertisements include Francsco Nonni with an Art Nouveau design, Fonte Meo / Acqua Minerale Naaturale, 1924 (est. $4,000-6,000); as well as two groups of circa-1946 window cards the first for Manhattan cocktails (est. $700-1,000), and the second, a group of four for Martini cocktails ($800-1,200).

Limited open exhibition hours will be available through August 4. Appointments are strongly encouraged and can be scheduled directly with a specialist. Swann Galleries staff will prepare condition reports and provide additional photographs of material on request. Advance order bids can be placed with a specialist for the sale or on Swann's website, and phone bidding will be available.
The auction will begin at 10:30 am on Thursday, August 5th. For more information please contact the specialist, Nicholas Lowry at (212) 254-4710, ext. 53.