On May 12, Hindman Auctions realized over $883,000 in 367 lots in its Fine Books and Manuscripts, including Americana sale. Active and competitive bidding led to the highest sold total for a Books and Manuscripts various owner sale in Hindman's history and a robust 96 percent sell through rate. Outstanding bidder engagement was seen throughout the entire auction, but particularly with fine collections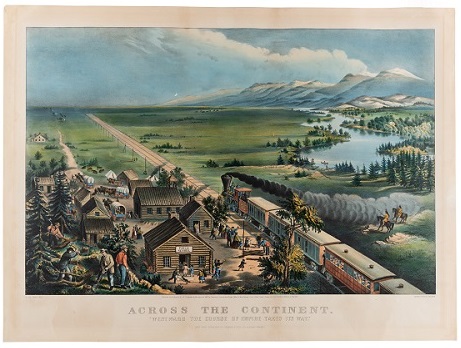 of Bibles and Currier and Ives prints. Since March, the Books & Manuscripts Department's auctions have realized over $1.32 million.

The auction began with strong response to a selection of Bibles, which led to a 98 percent sell through rate for the session, highlighted by a copy of Robert Barker's "He" Bible, the first edition of the King James Bible, published in 1611 (lot 7), which sold for $52,500 against a presale estimate of $8,000-12,000. A very fine tall copy of the Rheims New Testament (lot 4), the first edition of the Roman Catholic version of the New Testament in English, reached $17,500 thanks to competitive bidding. A copy of Richard Jugge's Bible, the third quarto edition of Tyndale's version and the last of Tyndale's New Testament (lot 3) realized $23,750, nearly four times its presale estimate.

The American Prints session, highlighted by a fine selection of Currier and Ives prints from a private collection, saw competitive bidding across all channels and ultimately achieved a 100 percent sell through rate. Leading the session was Westward the Course of Empire Takes Its Way (lot 298) which sold for $22,500 against a presale estimate of $7,000-10,000. A Currier and Ives' print of Yosemite Valley (lot 311) achieved a top price of $21,250, more than five times its presale estimate. Another highlight from the session was Rocky Mountains – Emigrants Crossing the Plains (lot 310), which realized $20,000 against a presale estimate of $10,000-15,000. Only one other example of this print has sold at auction in the last 60 years. The session also saw significant interest in prints by John James Audubon and Karl Bodmer.

Other highlights included an autograph letter from English poet Percy Bysshe Shelley to his publisher Charles Ollier (lot 220) in which he discusses his masterpiece Prometheus Unbound, which realized $27,500 against a presale estimate of $3,000-4,000. A group of nine letters from Georgia O'Keeffe to Jean Ledoux (lot 202A) sold for $11,875, more than triple its presale estimate. A copy of Daniel Maclise's A Gallery of Illustrious Literary Characters (lot 123), extra-illustrated by the addition of manuscript material from several 19th-century authors including Samuel Taylor Coleridge, Washington Irving, William Wordsworth, and Charles Dickens, realized more than seven times its presale estimate, selling for $28,750.
For more information call (312) 280-1212.