Architecture, Theater, and Fantasy: Bibiena Drawings from the Jules Fisher Collection
The Morgan Library & Museum proudly presents Architecture, Theater, and Fantasy: Bibiena Drawings from the Jules Fisher Collection, on view May 28 through September 12, 2021. The exhibition explores the elaborate stage design drawings produced by the Bibiena family and collected by the internationally acclaimed lighting designer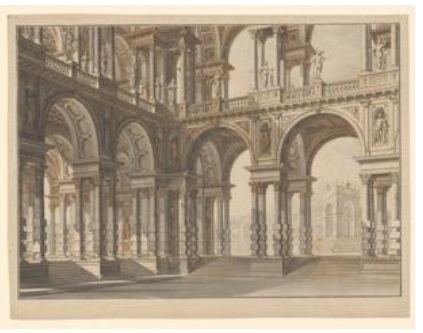 Jules Fisher. It marks the first exhibition dedicated to Bibiena drawings in the United States in more than thirty years. For nearly a century, members of three generations of the Bibiena family were the most highly sought theater designers in Europe. Their revolutionary stage designs were used for operas, festivals, and courtly performances across Europe: from their native Italy to cities as far afield as Vienna, Prague, Stockholm, Saint Petersburg, and Lisbon. While some of these productions are recorded in engravings, the Bibiena style survives above all in the family's extraordinary drawings, which demonstrate the range of their output—from energetic sketches to highly finished watercolors.
With representations of imagined palace interiors and lavish illusionistic architecture, this group of drawings highlights the visual splendor of the Baroque stage. Many demonstrate the family's signature invention: the scena per angolo, or "scene viewed at an angle." Replacing the static symmetry of earlier theater designs, the scena per angolo used multiple vanishing points to imagine sets of unprecedented monumentality, with a complexity of space never previously seen on the stage. The Bibiena family of artists traces its origins to Giovanni Maria Galli (1618–1665), who was born in the Tuscan town of Bibbiena but moved to Bologna, where he worked under the painter Francesco Albani. Following a common practice of the time, he came to be known in his adopted city by a toponymic surname, Galli da Bibiena (with "Bibbiena" shortened to "Bibiena"). His children and descendants, though born in Bologna and elsewhere, continued to use "Galli Bibiena," or simply "Bibiena," as the family name.

Architecture, Theater, and Fantasy celebrates the promised gift to the Morgan of twenty-five drawings by members of the Bibiena family from the collection of Jules Fisher. During a career spanning more than sixty years, Fisher has designed the lighting for over three hundred Broadway and off-Broadway shows, including the original productions of Hair, Jesus Christ Superstar, Chicago, and Angels in America, as well as for films, operas, ballets, concerts, and television. He has been honored with nine Tony Awards, more than any other lighting designer. Fisher's long-standing fascination with the Bibienas was notably encouraged by his late brother Roy Fisher, a much-respected art historian and drawings expert who worked for Wildenstein & Company and the J. Paul Getty Museum, and as an independent dealer. The Fisher gift finds an ideal home at the Morgan, which already holds one of the largest collections of Bibiena drawings outside of Europe.

Jules Fisher said, "As a lighting designer, I have always been enchanted by the Bibienas' masterly use of light and shade to communicate the three-dimensionality of space, particularly in expressing scenery. Remarkably, they were able to do this with pen, ink, and little color on a flat piece of paper. The Morgan's major collection of work in this genre makes it the perfect place for the addition of my collection. The Morgan has my gratitude for protecting and sharing this treasure."
A catalogue edited by John Marciari and Laurel Peterson, and containing essays by Diane Kelder, accompanies the exhibition. An array of engaging public programs will also accompany the exhibition. Please visit www.themorgan.org for further details.

Architecture, Theater, and Fantasy: Bibiena Drawings from the Jules Fisher Collection runs from May 28 through September 12, 2021 at The Morgan Library & Museum 225 Madison Avenue at 36th Street, New York, NY 10016. For more information please call (917) 805-4128.