Potter & Potter Auctions' March 13, 2021 Fine Books and Manuscripts auction fetched more than $510,000 with a 96% sell-through rate. This exciting, 600 lot sale event featured extraordinary selections of antiquarian to modern titles, including first editions and important letters.

Potter and Potter's early spring literature event was a success by every measure. After a long day of energized bidding, 107 lots realized between $750-1,999; 50 lots realized between $2,000-9,999; and 6 lots broke the five digit mark. Prices noted include the company's 20% buyer's premium.

Lot #275, a typed signed letter from Albert Einstein to Mr. Sol Stein, estimated at $4,000-6,000 sold for $28,800. Dated March 10, 1954 and sent from Princeton, NJ, this one page note, written in English on embossed personal stationery, addressed the question, "What do you think about the nature of Communism and what are the best methods of combatting its influence?"
Lot #529, a typed signed letter from novelist James Baldwin including an unpublished essay and literary critique, was estimated at $2,000-3,000 and brought $14,400. This letter, dated March 1956, was postmarked from Paris and included its original envelope. It addressed many facets of the cultural and socio-economic hardships and realties faced by African Americans in early postwar America.

19th century books also did extremely well at this early spring event. Lot #127, J.J. Audubon's three volume The Quadrupeds of North America from 1854 was estimated at $3,500-5,000 and sold for $10,800. Published by V.G. Audubon in New York in 1854, this early octavo edition of Audubon's final work contained 150 hand colored lithographed plates from the 1845–48 folio edition of The Viviparous Quadrupeds of America, and five of the plates from the rare 1854 supplement of that work.
Lot #208, H.F. Cary's The Vision; or, Hell, Purgatory, and Paradise, of Dante Alighieri from 1814 was estimated at $1,800-2,200 and brought $5,040. Printed in London for Taylor and Hessey, this was the first complete edition in English of the Divine Comedy and the first accurate commentary with about a third of the work devoted to notes.

Lot #154, a six volume, limited edition collection of Books about Books by A.W. Pollard, was estimated at $600-800 and made $3,840. These were published in London by Kegan, Trench, Trübner & Co. in 1893-1894. Number 20 of 150 large paper copies printed, the set included Charles & Mary Elton's The Great Book Collectors; W.J. Hardy's Bookplates; Falconer Madan's Books in Manuscript; E.G. Duff's Early Printed Books; A.W. Pollard's Early Illustrated Books; and H.P. Horne's The Binding of Books.

Lot #266, Gustave Doré and J.F. Michaud's History of the Crusades was estimated at $200-300 and realized $1,320. This two volume set, printed in Philadelphia by George Barrie around 1880, was the first American edition, and the first edition in English of Michaud's work to appear with Doré's illustrations.
Lot #480, a first edition, first printing of Harriet Beecher Stowe's two volume Uncle Tom's Cabin; or, Life among the Lowly, was estimated at $3,500-5,000 and fetched $9,000. Published in 1852 in Boston by John P. Jewett & Co., this copy with a cloth slipcase, was accompanied by an autographed note by Stowe.

Lot #223, a fine, first American edition, early state example of Samuel Langhorne Clemens' The Adventures of Huckleberry Finn, sold for $8,400 against a $1,200-2,000 estimate. It was published in New York by Charles L. Webster and Co. in 1885 and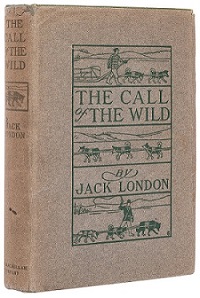 was housed in a custom cloth clamshell with morocco spine label titled in gilt.

Lot #382, a first edition, first issue of Jack London's The Call of the Wild with its original dust jacket, more than doubled its high estimate and sold for $10,200. Published in New York by The Macmillan Company in 1903; this book is considered to be one of the most desirable classics in American literature.

Lot #156, a signed, first edition, first printing of Ray Bradbury's 1957 Dandelion Wine, made nearly six times its high estimate, selling at $1,440. This tale was set in the fictional Green Town, based upon Bradbury's childhood home of Waukegan, Il.

Lot #238, a first edition presentation copy of Joseph Conrad's Within the Tides, was estimated at $600-800 and brought $3,360. It was published in London by J. M. Dent in 1915 and inscribed to Grace Willard, a contributor to Vanity Fair, "Grace Willard/with friendly regards/from J. Conrad".

Lot #369, a first American edition and first printing of Clive Staples Lewis' The Screwtape Letters, was estimated at $200-300 and sold for $1,320. It was published in New York by The Macmillan Company in 1943 and included the original dust jacket.
Lot #422, a first edition, first printing copy Thomas Pynchon's V. sold for $2,640, over four times the high estimate. Published by J. B. Lippincott in 1963, this handsome example retained its original unclipped first state dust jacket.

Lot #51, a first edition, first printing of Dashiell Hammett's The Thin Man was estimated at $300-500 and fetched $3,600. It was published in New York by Alfred A. Knopf in 1934 and signed by actor William Powell. Powell portrayed Nick Charles in the 1934 American comedy–mystery The Thin Man, directed by W. S. Van Dyke.

Fine press books and Black Americana rounded out the event. Lot #583, William Shakespeare's Sonnets, printed in Stratford–on–Avon by Shakespeare Head Press, was estimated at $2,000-3,000 and realized $12,000. This example from 1905 - one of the publisher's earliest editions (the second item on Franklin's checklist) - was one of only 12 copies printed on vellum, this example being number six.

Lot #543, a collage poster by Don Hampton, estimated at $80-125, sold for $540. It was published in Santa Monica, CA in 1973. This offset lithograph poster - perhaps the only one extant - featured images of civil rights leaders and contemporary Black icons such as Martin Luther King, Jr., Angela Davis, and Sidney Poitier, collaged with snippets of text.

According to Christopher Brink, Director of Fine Books & Manuscripts, "This was by far our most exciting fine book sale to date. We continue to surpass each of our previous book auction records in terms of sales and quality of items and we have proved that we command some of the strongest prices on the market." Potter & Potter, founded in 2007, is a Chicago area auction house specializing in rare and collectible books, paper Americana, posters, fine prints and ephemera. For more information, please contact Christopher Brink, Director of Fine Books and Manuscripts, Potter & Potter Auctions at (773) 472-1442 or chris@potterauctions.com.