Potter & Pottert's October 20th Fine Books and Manuscripts sale did well in every respect. When the hammer fell for the last time, 98 lots fetched $750-2,499; 23 lots bought $2,500-$9,999; and four lots broke the $10,000 mark. Prices noted include the 20% buyer's premium.

Museum quality fine art, paintings, and prints were among the top lot slots in the sale. Pablo Picasso's Le Pigeonneau, was estimated at $10,000-15,000 and brought $37,500. The hand colored and signed artist's proof from 1939 was printed in Paris by Robert Blanchet and was accompanied by two letters of authenticity; David Hockney's Ossie and Mo, was estimated at $1,000-2,000 and made $4,800 - almost five times the low estimate. This signed work, numbered 4/75, was printed by Maurice Payne on Chisbrook handmade paper and published by the Petersburg Press in 1968. William Adolphe Bouguereau's beautifully rendered Study of the Head of a Brunette Woman, sold for $14,400. This signed, pastel on board work included its original Galerie Drouant–David and Galerie Percier Paris gallery tags

Important century and millennium spanning books also generated heated bidding and impressive results. A second edition of Charles Darwin's On the Origin of Species by Means of Natural Selection, or the Preservation of Favoured Races in the Struggle for Life, was estimated at $8,000-10,000 and sold for $11,400. It was published in 1860 in London by John Murray. This example was the 1860 imprint with "fifth thousand" on title page (roughly two copies of the first issue are known to exist with an 1859 imprint); a copy of Gaius Julius Caesar's The Commentaries printed in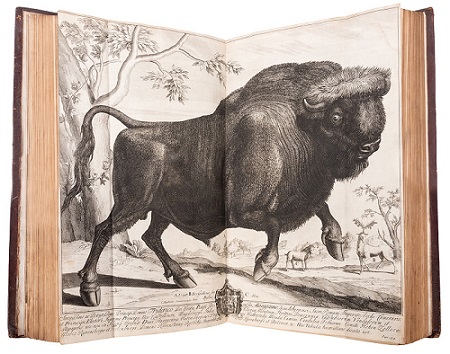 London in 1712 by Jacob Tonson, realized $14,400 – more than twice its low estimate. The 560 page folio was edited by Samuel Clarke and included the double-page plate of the bison, which is usually lacking; Thomas Hawkins' The Book of the Great Sea-Dragons, Ichthyosauri and Plesiosauri… Extinct Monsters of the Ancient Earth from 1840 was estimated at $3,000-4,000 and sold for $7,200. This first edition was published in London by W. Pickering and featured thirty plates copied from skeletons in the author's collection of fossil remains. An 18 volume set of The Works of Jonathan Swift, from the library of Robert R. Livingston, soared to $5,520 against its $1,000-2,000 presale estimate. These books were printed by Mrs. Mundell, et al. in Edinburgh in 1778. Each volume included Mr. Livingston's personal bookplates. One of the Founding Fathers, Livingston was a member of the Committee of Five that drafted the Declaration of Independence, the administrator for George Washington's Oath of Office when he assumed presidency in 1789, and the chief negotiator of the Louisiana Purchase in 1803.

A boldly inscribed presentation copy of Alma Mahler's Gustav Mahler: Memories and Letters from 1946, sold for $3,600 against a $400-600 estimate. Alma Mahler was a composer, author, and spouse of Gustav Mahler. This book had six paper items laid in, including an autographed letter, a Western Union telegram, photo postcards, snapshots, and other ephemera.
William Cullen Bryant's two volume Picturesque America; Or, the Land we Live in: A Delineation by Pen and of the Mountains, Rivers, Lakes, Forests, Water-Falls, Shores, Canyons, Valleys, Cities, and Other Picturesque Features of our Country, sold for an astonishing $3,360, about ten times the $250-350 estimate. This first edition, first printing, published in New York by D. Appleton & Company was profusely illustrated with 49 full-page steel-engraved plates, including additional title pages and frontispiece engravings, and numerous inter-textual wood engravings.

Late 19th and early 20th century photographs, images, and cabinet cards were another focus of the auction. A collection of early photographs of men and women with hats, was estimated at $100-200 and brought $2,280. These included daguerreotypes of a wealthy man with a cane and top hat; an ambrotype of a young man smoking a cigar; and a partial real photo postcard with a seated man wearing a hat and bow tie. A group of 13 occupational cabinet cards from the 1880s, was estimated at $200-300 and ultimately brought $2,040. Professions represented included a tailor, organ builder, blacksmith, chimney sweep, picture framer, glassblower, saddle makers, actors, and others. A collection of more than 30 cabinet cards and CDVs of French stage performers, writers, and other notables, was estimated at $100-200 and sold for $1,440. Most were taken by the Nadar Studio – individuals pictured include Dumas, Daudet, Bernhardt, Gustav Doré, Victor Hugo, and others.

Ephemera of all sorts, periodicals, modern books, and manuscripts concluded the sale. A group of 35 Playboy Magazines from 1954–1958 delivered $3,600 – twelve times its low estimate, a four volume limited edition folio on Abstract Expressionism produced by the Tiber Press in 1960, made $6,000 . This important post-war American artists' book featured collaborations between four of the most influential American poets of the second half of the twentieth century, and four important second-generation New York School artists. Each publication was signed by the author and artist. A typed French language manuscript travelogue detailing a trip China by Way of the Tran-Siberian Railway in the 1913-1924, was estimated $400-600 and sold for $3,120. It was lavishly illustrated with post cards, snapshots, maps, and real photos mounted with photo corners along with numerous annotations or captions.

According to Gabe Fajuri, President at Potter & Potter Auctions, "Strong results across the board and a 93% sell-through rate shows that demand is high for quality - but more importantly, it shows that Potter & Potter continues to deliver exceptional results in the book and manuscript market... our next auction in this category is set for mid-March of 2021." For more information, please call (773) 472-1442.