Hindman Auctions hosted a series of Fine Art sales last week, realizing $3.4 million overall, beating presale estimates and setting two new global auction records. Incredibly high interest and participation, as well as extremely competitive bidding, drove top results with bidders on the telephones and on four online bidding platforms.

"We were delighted to, yet again, offer record breaking works of art in our Post War and Contemporary Art auction at Hindman," said Joe Stanfield, Hindman's Senior Specialist and Director of Fine Art. "This week of Fine Art sales was a great success, and we were thrilled to see such high engagement and top results across the board. Works by the Chicago Imagists and the Hairy Who continue to bring strong prices on the secondary market."

Post War and Contemporary Art (May 21st) continued to see strong demand for works by the Hairy Who and the Chicago Imagists. After Hindman saw a record setting year in 2019, the market for these works is still heating up as every lot offered found a buyer at or above presale estimates. Hindman set yet another record in this category with Barbara Rossi's, Mir-ror Grr-L realizing $55,000 against an estimate of $30,000-50,000, eclipsing the previous benchmark set by Hindman last December. Additional highlights from this session include Miyoko Ito's Irrigation which almost tripled it's $40,000-60,000 estimate selling for $112,500, Roger Brown's Dancing Houses-The Earthquake of 1994 which brought $100,000 doubling the presale estimate and Gladys Nilsson's A Man with a result of $55,000 exceeding the high end of the $30,000-50,000 estimate.
The top lot of the auction was Bob Thompson's 1961 ambiguously allegorical painting The Sack (The Snook) which saw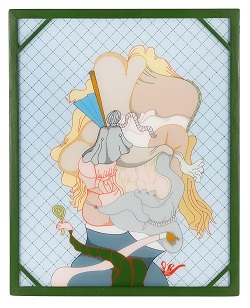 fiercely competitive bidding from all sectors and ultimately sold on the telephone for $212,500, more than ten times the strategically conservative $20,000 to 30,000 estimate. Zack Wirsum, Senior Specialist of Post War and Contemporary Art, said of the work, "This rare, early example from Thompson's tragically brief career was an exception in both content and scale. In addition, the work was part of a single private collection prior to the sale, another contributing factor to the incredible result. The painting depicts a staggered arrangement of figures - some crowned in wide brimmed hats and dunce caps, others lurking ominously behind trees and others still alarmingly ensnared in sacks and cloaks - all in active gestural monochrome, evoking more dreamscape than landscape. The universal themes of capture, loss and surrender that carry through much of Thompson's work reverberate with sustained resonance in The Sack."

The Prints and Photographs (May 21st) auction exceeded expectations, confirming the consistent market for works by blue chip artists. Works by artists like Andy Warhol, Ed Ruscha, Pablo Picasso and Roy Lichtenstein were among the top lots. Roy Lichtenstein's, Crying Girl, and Blonde, each sold well beyond their presale estimates. Blonde, estimated at $10,000-15,000 sold for $35,000 and Crying Girl, realized $32,500 over a presale estimate of $15,000-20,000. Picasso's Sueño y Mentira de Franco, held a presale estimate of $8,000-12,000 and realized $33,280.

The American and European Art (May 20th) auction saw strong results as well selling over 90% of the lots offered and realizing $1.1 million. The overwhelming favorite of the day was Theodore Clement Steele's, Soldiers' and Sailors' Monument of Indianapolis from 1917. Estimated at $6,000-8,000, this rare and highly sought-after work, sold for more than 20 times the estimate, realizing $131,250. Other works that surpassed expectations include Georges (Karpeles) Kars' Reconstruction of the Old Town in Prague from 1908 that realized $45,000 against a presale estimate of $6,000-8,000 and Joan Miro's Untitled work on paper, estimated at $15,000-20,000 and realized $35,840.

Hindman is now welcoming consignments for upcoming Fine Art auctions. For more information, visit HindmanAuctions.com or call (312) 280-1212.