Jane Austen led Swann Galleries' February 20th Fine Books & Manuscript sale with competitive bidding driving prices well above their high estimate for first editions of all of her major works. Ultimately, they were swept by a collector bidding on the Swann Galleries App. The novels came across the block in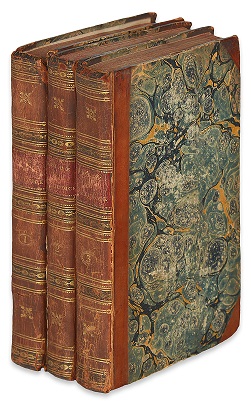 exceedingly rare period binding with half-title pages.

Pride and Prejudice, 1813, headed off the offering fetching $100,000. The rarest of the group, Sense and Sensibility, 1811, with likely only 1,000 or fewer first editions being produced, brought $81,250. Emma, 1816, the only Austen novel to bear a dedication, to the Prince Regent, sold for $27,500. Mansfield Park, 1814, and Northanger Abbey and Persuasion, 1818, rounded out the run at $20,000 and $11,875, respectively. "Most any Jane Austen first edition appearance is noteworthy, but to have all six of her major novels, each one complete and in period binding, helped make this a wildly successful and memorable sale," noted John Larson, the house's literature specialist.

Further literature of note included The Catcher in the Rye, 1951, by J.D. Salinger. The first edition, in the first-issue dust jacket, sold for $35,000, a record-tying number. The Calcutta II edition in Arabic of The Alif Laila, 1839–42, commonly known as The Arabian Nights' Entertainments, brought $12,500. A limited edition of Kew Gardens, 1927, signed by Virginia Woolf and Vanessa Bell, sold for $8,125. A first edition of Graham Green's personal file copy of The Basement Room, 1935, with annotations without, earned a record for the volume of short stories at $11,250.

An 1863 partly-printed document signed by Abraham Lincoln lead an exceptional offering of autographs. The document, issuing a call for troops during America's first national draft, just days before the NYC draft riots, brouht $18,750. Additional political figures included Emilio Aguinaldo with two items signed, including a letter written from Baliuag days before Americans captured it during the Philippine-American War in 1899 ($18,750). Mohandas K. Gandhi was represented with a 1926 endorsed check correcting another's misspelling of his name ($12,350). Also of note was a small archive of five items signed by Philip K. Dick to his psychiatrist dating to 1973 ($9,375).

Art, press and illustrated highlights featured a complete sell-through of D.A. Levy titles with The North American Books of the Dead, Part 1 and 2, 1965, earning a record at $7,800. For more information, contact the autographs specialist, Marco Tomaschett at mtomaschett@swanngalleries.com or (212) 254-4710, ext. 12 or the literature and art books specialist, John D. Larson at jlarson@swanngalleries.com or (212) 254-4710 ext. 61.