Information • Entertainment • Opinion (Since 1985)

| | | | | | | |
| --- | --- | --- | --- | --- | --- | --- |
| Book Fairs | Book Auctions | Open Bookshops | Biblio Paradiso (The Virtual Book Fair) | Book Search | Rare & Unusual Books | Alternative News |
Booksellers' Gulch (or where the books are)
"Booksellers' Gulch" is (or was) that part of the upper Connecticut River valley bordering Vermont and New Hampshire, where there were booksellers in or near every town or village of any size.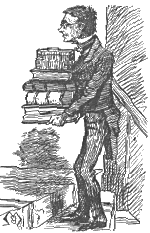 For readers, collectors, and members of the trade, this area was northern New England's version of Manhattan's Book Row and a bibliophile's paradise. Nowadays "Booksellers Gulch" is our metaphor for where the books are. We hope that bookhunters on the road or just exploring areas near where they live, will find this guide helpful. This feature of Book Source Magazine had been neglected in recent years, but is now being added to on a fairly regular basis
As this geographically arranged directory grows and as time goes on, it will be hard for us to ensure that the information remains up to date - bookshops move or owners retire. This is where you all come in. If anyone is aware of any change that affects the accuracy of a bookshop's listing, please get in touch with us and let us know. This will help everyone.
Booksellers who wish to apply for a free listing should call (315) 655-9654 or e-mail for particulars. Please click on this sentence to see the complete list as it exists at the moment.