Information • Entertainment • Opinion (Since 1985)

| | | | | | | |
| --- | --- | --- | --- | --- | --- | --- |
| Book Fairs | Book Auctions | Open Bookshops | Biblio Paradiso (The Virtual Book Fair) | Book Search | Rare & Unusual Books | Alternative News |
The Last Book Shop
December, 2020
By John Huckans
Many of you know about or have seen the short film entitled The Last Bookshop which can be viewed on YouTube. (click on the still photo) A little more than 20 minutes long, it features two actors – an elderly bookseller and a young boy whose family's electronic media system has broken down and who discovers a bookshop from the past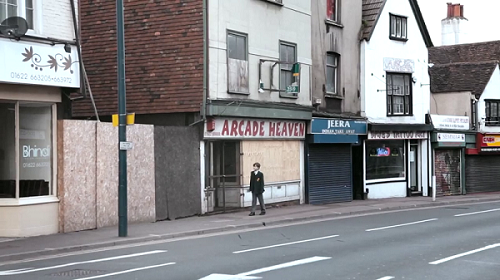 while aimlessly wandering the streets of a post modern Amazonian dystopia in which shops have disappeared from the streets of towns and villages of a society that has finally gotten what it wished for. The filming was done at various bookshop locations, including Halls Bookshop in Royal Tunbridge Wells (for the exterior shots) and at Baggins Books in Rochester (Kent). Most of the interior scenes, showing endless ranges of shelving stretching from floor to ceiling, were made at Baggins, one of the largest bookshops in England and one of two bookshops (the other being Piccadilly Rare Books in Ticehurst) owned by Paul Minet, who contributed his column, Letter from England, to this magazine for many years. When Paul died in 2012 Baggins was given to the members of staff – which sounds very much like Paul and Sheila.
Speaking of Paul Minet, some of you may remember his column in Book Source Magazine but never had a chance to visit Baggins. It was easy to get lost in the place, as you might guess by watching the film. The actor playing the bookseller in no way resembled Paul, who was a towering figure and eminently capable of any physical task involving having to deal with massive quantities of books (or anything else, I would have guessed). Paul was also a journalist, writing for and editing The New Daily, a Liberal newspaper published in the 1960s, founder and editor of Antiquarian Book Monthly Review (ABMR), editor of both The British Diarist and Royalty Digest, and a long-time columnist for Book Source Magazine. His philanthropic activities mainly involved his family's support and efforts on behalf of Chetham's Library in Manchester, founded in 1653 and the oldest public library in the English-speaking world.
When the children were young Sheila and Paul took a several year sabbatical in Greece where he wrote Late Booking: My First Twenty-five Years in the Secondhand Book Trade (1989). It is an immensely readable account of the English book scene in the post World War II era and almost Pepysian in character, in the sense of not being self-censoring, but informing the reader about the way things really were. When Sheila and Paul last visited us some years ago (2009) for a book-signing at the Cooperstown Antiquarian Book Fair, we bought up the small remainder. Most of it was sold shortly afterwards, but we have a few copies left at $20 each, shipping included. If interested, contact us through this magazine's website or simply call (315) 655-9654.