Information • Entertainment • Opinion (Since 1985)

| | | | | | | |
| --- | --- | --- | --- | --- | --- | --- |
| Book Fairs | Book Auctions | Open Bookshops | Biblio Paradiso (The Virtual Book Fair) | Book Search | Rare & Unusual Books | Alternative News |
Hobart Book Village Profiled on CGTV
The Hobart Book Village located in the northern Catskills, if not the only, is by far the most prominent book village in the United States. Don Dales, a visionary local property owner from Hobart, a once a sleepy village with mostly empty stores,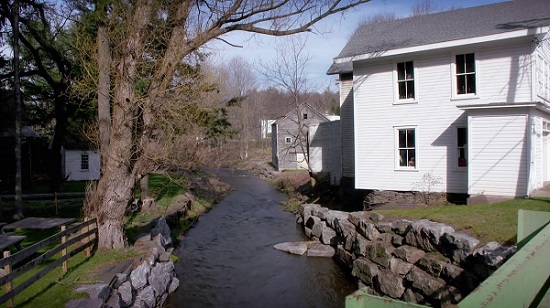 teamed up with William Adams (a retired physician) and his wife Diana (a retired attorney) to reinvent the town along bookish lines, and then set about trying to recruit other booksellers to join them in the project. Both Dales and the Adams would certainly be the first to admit that their inspiration was based on the pioneering efforts of Richard Booth who turned Hay-on-Wye, a small town in Wales, into the world famous destination it is today. Other rural villages have tried to emulate that model, but except for Wigtown in Scotland, and Hobart, few have had lasting success. About a year or so ago, after being the subject of an article in the Guardian, Hobart's story was picked by the NBC morning television program Today, where it can still be viewed.
The Adams, who now trade under the name Wm.H. Adams, Antiquarian Books, previously worked in Manhattan and traveled to Hobart during vacations, weekends and at every opportunity. During that period they bought a property and decided to make Hobart their second home and base of their antiquarian book business.
CGTN (China Global Television Network) is one of several international television services we receive off the air (no cable or satellite required) from WCNY, our nearby PBS station. Very recently CGTN aired a special report on the Hobart Book Village and conducted interviews with the Adams, Dales, other local booksellers, and the owner of the Bull & Garland Pub. If you didn't see the story when originally broadcast, you can watch it by clicking here or on the above image of the creek that meanders through the village.. You may find it interesting.