Crepe as a dress material has been known since 1797 for its superior draping (as a pancake since 1877!). A thin, semi-transparent fabric of silk or cotton it was finely crinkled (or crisped, hence the name from the Latin for curled or wrinkled) either irregularly or in long parallel ridges. When dyed black, it had "a peculiarly somber appearance" with no gloss and so was considered particularly appropriate for mourning wear, especially in silk, which came to be known in England as, simply, 'crape.' (For more detail, see the wonderful entry in George S. Cole's 1892 A Complete Dictionary of Dry Goods and History of Silk, Cotton, Linen, Wool…)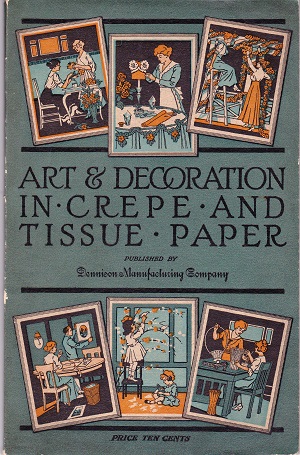 When, precisely, this crinkling was transferred to paper manufacture is up for discussion. It appears certain that the first company to make it in America was Dennison, in Framingham Massachusetts in 1897 (the name crepe paper is attested to in the dictionary in 1895). But Japanese creped paper was imported as early as the 1870s, and there is an 1892 edition of T. Hasegawa's book of fables, Oyuchasan, printed in Tokyo on crepe paper.
Crepe paper is a tissue coated with sizing and then mechanically creased. The advantage of both the coating and the creping is strength – translating into the ability to create items usually made of fabric but more cheaply, albeit more ephemerally. Patriotic bunting to be draped on buildings for parades and other celebrations was traditionally lightweight wool but was soon replaced by crepe paper. Not content with a product limited to July 4th Dennison published a very entertaining series of 'how to' booklets that encouraged consumers to sew crepe paper into garments, and to decorate their tables, their homes, their theaters, their bicycles, their automobiles for celebrating every conceivable occasion.
The image is the cover to the booklet for 1921 which also contains samples of the bright colors of crepe paper available. "The main point of difference between Dennison Crepe and all the others is the creping. Owing to the fineness and the evenness of this finish, the paper has a surface which a few feet from the eye makes it appear like some woven or spun fabric. One side of the paper is soft and velvety with practically no sheen; the other side has a high, satin-like finish."
The 1920s seem to have been the heyday of this type of 'over-the-top' paper fashion exuberance, though as streamer decoration for proms and, as a craft staple from kindergarten to Martha Stewart, it still is popular.
Diane DeBlois, partner for more than thirty years in aGatherin' with Robert Dalton Harris, specializes in manuscripts and printed ephemera. She is editor of publications for The Ephemera Society and writes for several publications including the Journal of Commercial Archaeology. For more information on ephemera contact the Ephemera Society of America, Inc., P.O. Box 95, Cazenovia, NY 13035.