The annual fall gathering for bibliophiles, the Boston International Antiquarian Book Fair, will return to the Hynes Convention Center in Boston's beautiful Back Bay for its 41st year, November 10-12, 2017.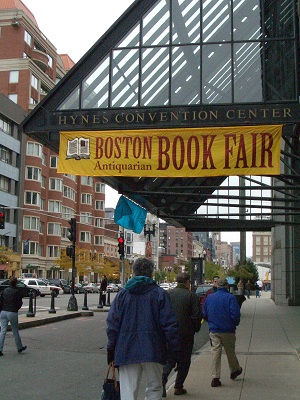 More than 120 dealers from the United States, England, France, Germany, Netherlands, Spain, Denmark and Australia will exhibit and sell a vast selection of rare, collectible and antiquarian books, illuminated manuscripts, autographs, maps, atlases, modern first editions, photographs, and fine and decorative prints.
One of the oldest and most respected antiquarian book shows in the country, the event offers the 'crème de la crème' of items that are available on the international literary market. Whether browsing or buying, the Fair will offer something for every taste and budget—books on art, politics, travel, gastronomy, science, sport, natural history, literature, music, and children's literature—books that will appeal to the serious collector and the curious browser.
The Fair gives visitors the opportunity to see, learn about, and purchase the finest in rare and valuable books and ephemera. For attendees wanting to start a collection without breaking the bank, there will be dealers offering 'discovery' items priced at less than $100.
Tickets for Friday night's exclusive Opening Night preview event are $20 — an opportunity for the public to get a first look at items for sale at the Fair. Admission is free on Saturday and Sunday.
"We were so thrilled with last year's attendance, that we've decided to continue to offer free weekend admission at this year's event," says show organizer Betty Fulton. "We especially saw an increase in younger audiences, who find that holding a book with an amazing history in their hands is a uniquely satisfying experience."
Seminars and events will be featured throughout the weekend including The Annual Ticknor Society Roundtable, a panel discussion of collectors talking about their collections. More events will be announced in early fall, and people can visit www.bostonbookfair.com for up to the minute details.
Hours for the Friday evening preview are November 10, from 5:00 - 9:00pm (tickets: $20.00);
Saturday, November 11, from 12:00-7:00pm (free admission) and Sunday, November 12, from 12:00-5:00pm (free admission).
The Hynes Convention Center is located at 900 Boylston Street in Boston (MA). The Boston International Antiquarian Book Fair is sponsored by the New England Chapter of the Antiquarian Booksellers' Association of America. A portion of the ticket sales will benefit the Boston Public Library and the American Antiquarian Society. Tickets will be sold online at www.bostonbookfair.com and at the show's box office during Friday evening show hours. For more information, please visit www.bostonbookfair.com or call 617-266-6540. The Boston International Antiquarian Book Fair is produced by CommPromo, Inc. www.commpromo.com
To read more, please visit our Archive Page.