On February 23rd, 2017, PBA Galleries will offer a rare first edition of the first printed laws governing Upper California, Reglamento para el Gobierno de la Provincia de Californias. These series of regulations dealt with reform within California presidios and issues of defense as well as local governments, agricultural regulation, land titles, anti-corruption measures, the reduction of missionaries, etc. from the late 18th century until California became a state in 1850. (estimate: $200,000-$300,000).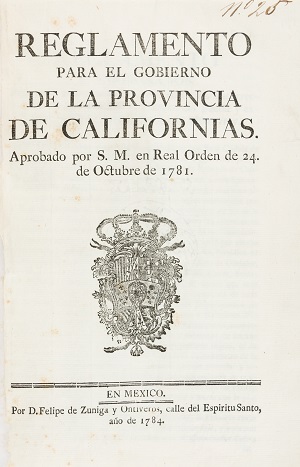 Three additional California lots are among the highlights. A San Francisco Directory for the Years 1852-53 complete with the rare double page map. Called by Bancroft "The first really excellent directory" of the city, it has about 9,000 names and an appendix of general information and statistics. (estimate: $5,000-$8,000). A pair of panoramic photographs show San Francisco before and after the April 1906 earthquake both taken that same month. Striking and uncommon the images depict the unsuspecting city just a week before the massive devastation of earthquake and fire, and the burnt ruins ten days after that fateful day. (estimate: $2,000-$3,000). A rare unrecorded map Map of Santa Clara Valley from Belmont to Sunnyvale shows the land, lots and property ownership of the area around Stanford University from 1908. Estimate: $1,000-$1,500.
Also featured is a complete set of the quarto edition of the Pacific Railroad Reports. With 12 volumes in 13, it is a massive compilation documenting the exploration for routes to the Pacific including a stunning array of maps and plates. Color lithographs of scenic views as well as black & white lithographs of geological, botanical & zoological subjects with some hand-colored lithographs of birds, presented to the world some of the first depictions of previously unexplored regions of the West. (estimate: $4,000-$6,000).
Other featured lots include Henry Siele's Cosmographie in Four Books, 1660, the second edition of his description of the known world, with four important maps of the continents (estimate: $3,000-$5,000); the Africa volume of Vandermaelen's extraordinary Atlas Universel, 1827, with 60 double-page maps on a uniform scale (estimate: $2,000-$3,000); and an original albumen striking and uncommon photograph of a group of Flathead Indians from Montana, c.1880 (estimate: $1,000-1,500).
The sale has over 500 lots of rare, significant, curious and captivating material spanning five centuries, from seminal documents in the founding and governance of California to sublime photographs of the American West and Hawaii. Included are rare works on the exploration of the world and expansion in the Americas, manuscript and documentary materials revealing key aspects of U.S. history and culture, rare maps of townships and cities and of the world at large, scarce ephemera, and much more.
The sale will begin at 11:00 am Pacific Time and the public may preview the auction Tuesday and Wednesday, February 21st and 22nd from 9am to 5pm and on Thursday, February 23rd, 9-11am at PBA Galleries in San Francisco. For more information, please contact the galleries at (415) 989-2665 or pba@pbagalleries.com.
To read more, please visit our Archive Page.