Exhibition of 75 Masterpieces from Sweden's National Museum opens at the Morgan on February 3rd
The Nationalmuseum, Sweden's largest and most distinguished art institution, is collaborating with the Morgan Library & Museum to bring more than seventy-five masterpieces from its renowned collections to New York in an extraordinary new exhibition opening February 3. The show features work by artists such as Albrecht Dürer, Raphael, Peter Paul Rubens, Rembrandt van Rijn, Antoine Watteau, and François Boucher, and is the first collaboration between the two institutions in almost fifty years.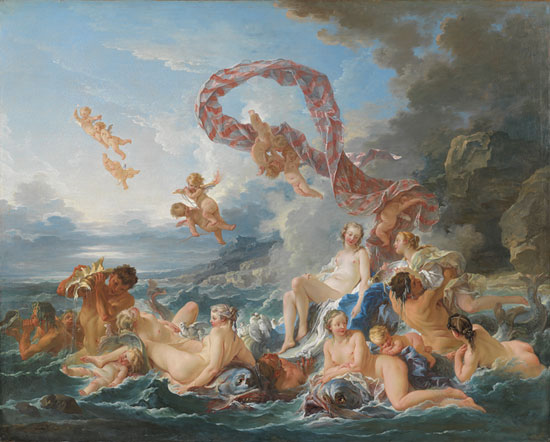 Treasures from the Nationalmuseum of Sweden: The Collections of Count Tessin runs through May 14. The Nationalmuseum's core holdings were assembled by Count Carl Gustaf Tessin (1696–1770), a diplomat and one of the great art collectors of his day. The son and grandson of architects, Tessin held posts in Vienna, Berlin, and Paris, where he came into contact with the leading Parisian artists of the time and commissioned many works from them. By the time he left the city in 1742, he amassed an impressive collection of paintings and drawings.
Among the fourteen paintings in the exhibition are three commissioned by Count Tessin and exhibited at the 1740 Parisian Salon. Chief among these is Boucher's Triumph of Venus, which is making its first journey to North America. Other paintings include Jean-Baptiste Oudry's Dachshund Pehr with Dead Game and Rifle, and a Portrait of Count Tessin by Jacques-André-Joseph Aved, in which the collector is shown among his art, books, and medals. Six works by Jean-Siméon Chardin, notably the Morning Toilette, complete the group. The drawings in the exhibition include works by Italian masters such as Domenico Ghirlandaio, Raphael, Giulio Romano, and Annibale Carracci. Northern European artists are represented by Dürer, Hendrick Goltzius, Peter Paul Rubens, Rembrandt, and Anthony van Dyck, among others. The French drawings begin with Primaticcio and practitioners of the Fontainebleau school and include works by Jacques Callot and Nicholas Poussin, as well as Count Tessin's French contemporaries, Watteau, Boucher, and Chardin. "We are delighted to host this exhibition of masterworks from the Nationalmuseum," said Colin B. Bailey, director of the Morgan Library & Museum. "The selection of paintings and drawings is of the highest quality. Fine examples of work from the Italian, French, and Northern European schools are represented, with a group of sixty master drawings forming the heart of the show. We are deeply grateful to the museum's director general Berndt Arell and his curatorial staff for making this collaboration possible. "The exhibition continues a tradition at the Morgan of partnering with Europe's leading cultural institutions. Over the last several years, the museum has mounted critically acclaimed shows from the Uffizi in Florence, the Louvre, the Staatliche Graphische Sammlung in Munich, and the Biblioteca Reale in Turin." For more information call (212) 590-0311

To read more, please visit our Archive Page.